The Honey Pot Co. faced backlash from a recent ingredient change, but the company's response sets a new standard of expectations from Black consumers.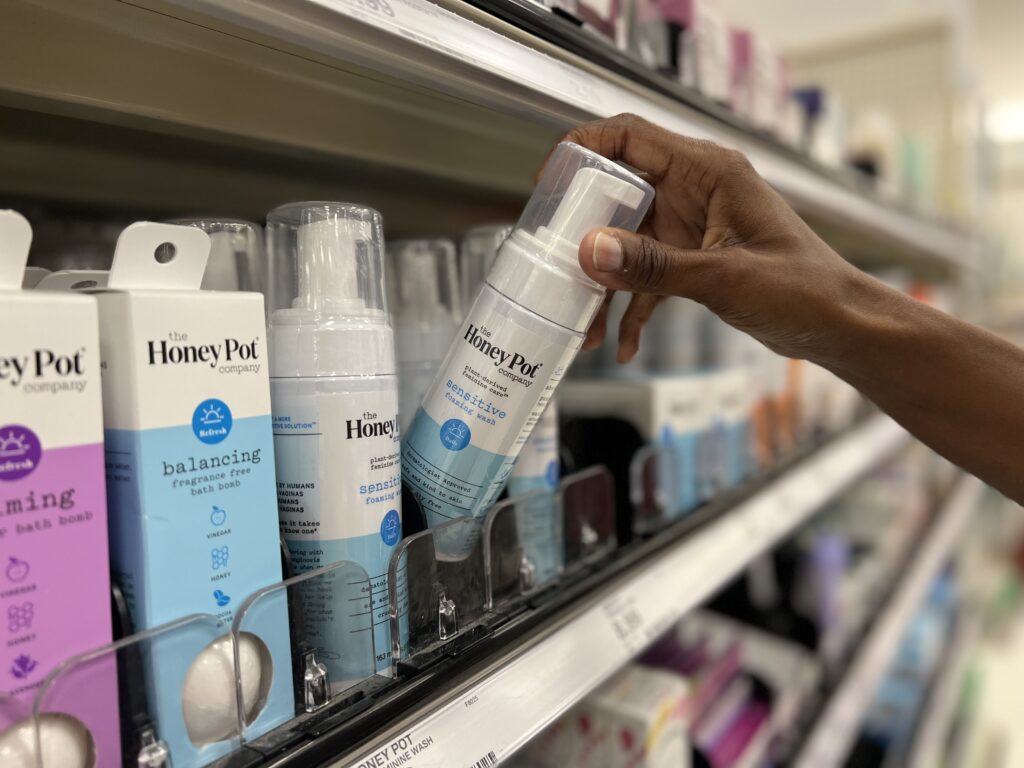 The Honey Pot Co., the popular vaginal healthcare company, received backlash on social media last month regarding an unknown ingredient change to its foam wash.
Despite the recent efforts of the company to clean up its mess, many women are choosing to leave the company behind. The company's lack of transparency exacerbated the lack of trust between Black women and companies. However, Honey Pot's response shows a standard at which all Black women and consumers should hold companies.
Often, companies are on the backend when focusing on Black women. For example, Pantene, a haircare line, mainly focused on looser, and primarily hair textures of white women, took until 2017 to release a collection called the Pantene's Gold Collection. This collection was made exclusively by a team of Black scientists fully addressing the different needs for textured hair.
If products are formulated for Black women, some companies use Black women to help themselves reach success but forget about Black women in the company's evolution. Black-founded company CEOs and founders become harder to reach and answers become harder to find until someone posts on social media. We are also often the last to find out about ingredient changes, which left women feeling betrayed after Honey Pot's ingredient switch.
Since Honey Pot's founder, Beatrice Dixon, is a Black woman, many women thought that they could connect with her and that Dixon could understand them because she looks like and most likely has experienced things that other Black women have been through. Unfortunately, the ingredient change invoked a sense of betrayal because of the lack of transparency.
The company itself didn't announce the ingredient change themselves but left it to the consumer to announce the change on Twitter.
"After seeing posts about the Honey Pot changing up the ingredients, I just went to check a new bottle & an old bottle and IM SICK😭 we can't have anything🥲" pic.twitter.com/RAdzMWxJuM

— Lele💎 (@coilele) May 15, 2022
Now, Honey Pot's failure to announce its ingredient change is nothing new. Other companies that appeal to and make products for Black women have also changed their products without properly informing their audience.
Shea Moisture, a Black woman-founded company, was successful at providing natural hair products to Black women. In 2015, a post on Curly Nikki, a natural hair and lifestyle blog, discovered that the brand changed the formula of its curl-enhancing smoothie hair butter. The first ingredient was replaced with glycerin, and many suspected that the brand switched to lighter ingredients instead of heavy oils to appeal to a white demographic. This left many Black women feeling like the brand forgot them.
Carol's Daughter also changed its ingredients without letting its primarily Black audience know. The brand also started to formulate its products to appeal to other races and in the process forget about the Black women that made them successful.
Since both companies changed ownership, many Honey Pot users attributed the ingredient change to an ownership change. But Dixon reaffirmed in an emotional Instagram post that while the ingredients have changed, her brother, herself, and her team still own the company.
Despite the betrayal, the way her company addressed its mistake is a standard for all companies to take into account.
Her response began where it started – on social media with apologizing and properly informing her customers why the ingredients changed. She mentioned that the supply chain shortage caused by the pandemic was part of the reason some of the ingredients changed, but reaffirmed that the company was intending to improve the product anyway. She also went through each ingredient and shared what each ingredient does for the body.
On Twitter, she even worked with Éliane Anita, also known as, @yourfavchemist, a Black chemist on Instagram, to debunk misinformation about the new formula. Women were able to ask questions about the new ingredients and ensure that the formula was still natural and safe to use.
Also, the company posted a video on Twitter testing the pH of the washes' new formula to show that the wash was safe.
"Everyone wanted to know if the washes pH still fell in between 3.5-4.5. Here's a video of me testing the pH of the washes in my lab." pic.twitter.com/1Ry7yvHBxE

— The Honey Pot Co (@thehoneypotcomp) May 25, 2022
Dixon also went further and provided her personal email, so consumers can speak directly to her about their concerns.
Although Dixon and her company made a mistake by not announcing the ingredient change, her response shows that she cares about the company and who she serves. Unlike other companies, Honey Pot assured its stakeholders that their products were still safe and actually opened up communication about ingredient changes that happen all the time.
If women held other companies that serve them accountable like this even before an ingredient change and if companies already were transparent in showing how the products are made and their contents, then women would not have a hard time trusting them.
Personally, I would love it if some of my favorite brands would explain the ingredients that I am using on my body and consuming every day. It's a part of establishing that trust as a consumer and announcing when changes are being made to the product from the packaging to the ingredients. Honey Pot's response to the backlash is what the company should have been doing since the beginning and should be the new standard for all companies just to keep a level of full transparency with their audience.
However, people can decide who and what to give their money to and what products to use on their bodies, hair, and skin. So it's up to Black women to decide if Honey Pot is here to stay and if these standards will become the new normal for businesses.