Recently, millions of people quit their jobs in hopes of better work conditions and for their mental health known as the Great Resignation. According to a 2022 Deloitte survey, 45% of millennials across 46 countries reported feeling burnt out. While many millennials continue to abandon their jobs, some look toward new passions, and some even start new businesses they were afraid to start. Now, the work this muse does is more important than ever, which is helping millennials during this turning point of their lives find their passion and purpose.
Her first client was herself. After years of not knowing exactly what to do with her life and experiencing success and failure, she's redefined her purpose and success by taking a journey of self-care and assessment. Now, she helps others, especially millennials, do the same: tap into their creative flow and turn it into a sustainable business and live their best lives. With a self-described vibe as a mix of Tracee Ellis Ross, Solange, and a dash of Rihanna, this Detroit-native lives by the mantra "be rich and live well."
Melanin Muse presents Rachel Rai Henry, the founder of Creative Flow School, as a 2022 muse to follow.
Introduce yourself and your business to our community.
My name is Rachael Rai Henry, and I'm the founder of the Live Rich, Be Well, Co. We are the home of Creative Flow School, which is the signature premier peer-to-peer education platform, where we really show Millennials "plus", and I say plus, so that it simply just means everyone who might be interested in learning how to hone in on their creativity, master and monetize it so that they can live their best lives.
At what point in life did you realize your passion?
I've always known my passion-creating space. It began with my first love: music. Music creates space for us to express our identity and tell our stories. It's what makes me feel alive and well in even the most challenging times of life. I grew up with a cool history of music. My cousin, Florence Ballard, was a founding member of The Supremes.
I grew up in the heart of Motown, and my great-grandmother went to school with Jackie Wilson. Being in a city whose beating heart was music, it wasn't long before I started writing and performing and found a deep passion for poetry and songs. Around that time it was made very clear that storytelling played a significant role in my life. While I'm not a musician (yet), I facilitate experiences rooted in honoring creative expression that we all came here to live out. And I always find a way to add music to the mix.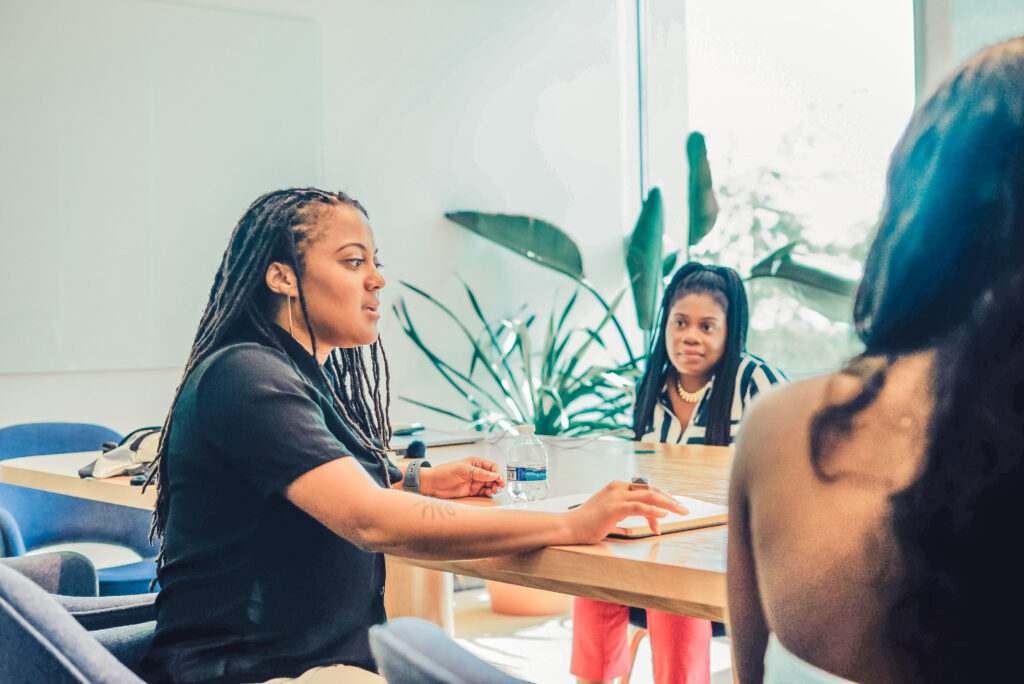 What inspired you to start your own business and help your community?
I, like many black millennials from lower-income households, chased after the American dream that promised an illustrious future following the path of higher education. As a first-gen college student, I remember the feeling of failure and inadequacy when I was asked to leave my four-year college because I couldn't afford to complete my degree despite my academic excellence. I made a promise to never forget that feeling and to channel that pain into something useful for other brilliant creators. That was where it really all began for me. I was 20-ish and fresh out of Harold Washington College (HWC) with an associate's degree. I'd maintained my relationships with my peers from art school and forged new ones with the professors and adult classmates at HWC, many of which were entrepreneurs. It was there that I had the idea of serving as a bridge – a connector between students like me with a fresh eye and a hunger for experience and the members of our community (i.e. owners of restaurants, bookstores, media firms, nonprofits, etc. who needed support with things like web design, photoshoots and overall brand and project management). Thus, my first business was born and I had the pleasure of serving over 40 small businesses in under 24 months along with my small but mighty team.
What has your journey been like to get where you are today?
The road has been rich and colorful.
My 20's were honestly a whirlwind. I made incredible moves in my career but not without a cost. I'd say my 20's were a season of illusionary bliss and detachment. My quest took me from Chicago onward to Austin, Orlando, Mexico, Atlanta and back to Chicago before making Texas home again.
While I thrived creatively, I struggled with the idea of finding or feeling at home – I always felt not quite like others and the weight of that made me put up walls to keep myself safe. Eventually, [I] was forced to see the unresolved, repressed trauma I was carrying and the message in the mess I'd made along the way to realizing home is a state of being and never bound to a location. Home is where love exists. It can be within, in the comfort of the ones we love and the lessons we learn. Home provides a space for freedom, rest and growth.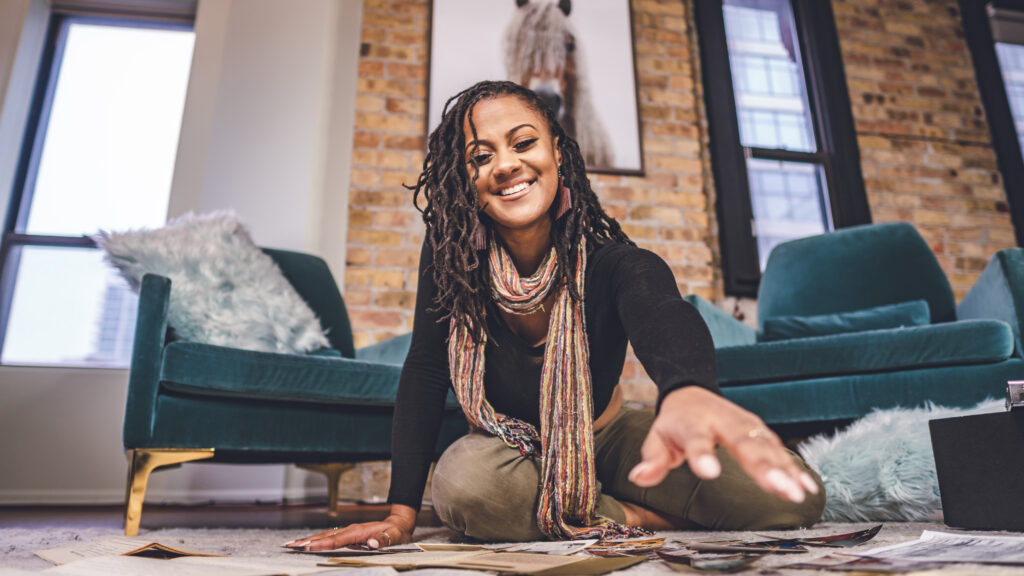 What do you attribute to your success in life and business?
Faith as I define it: an unwavering belief in possibility. Since I was a child, all I've wanted to do in this life is make a positive impact, give back to the world, and create a rich legacy that will live beyond me. Following my creative flow has given me firsthand experience and the necessary empathy to help my clients remain heart-centered to personally and professionally lead lives of greater possibility.
Doing so has given me the gems to lead with my purpose in this lifetime and continue to be the creative director in my own life with an open heart and soul full of magic.
Please let us know the woman you were 5 years ago and who you're becoming?
Five years ago, even three years ago, I was at the bottom. I'd spent so long on a quest to home that I looked up to see I was lost and could hardly recognize myself in the mirror. Sure, I was making money and hitting goals, but in the midst of it all, I hit some walls in my relationships and began making decisions out of fear and survival that cost me a pretty piece of peace in the long run. It took a while to get back to my center. But during that time, I learned invaluable lessons on how the human heart navigates loss, fear, pride and its ability to keep beating no matter what fire it's spiritually baptized in and to lean into all of life's sweeping meanders and release the fears that hold us back.
Today, I'm leaning into my role as the founder of the Creative Flow School where we help agencies, businesses, and communities use creative thinking and technology to foster leadership, promote innovation, and create a more equitable future for all. This journey has made me more capable of understanding and providing language to this unique journey that us weird, unconventional, and unboxable creative people find ourselves on. I call this framework for life and leadership Creative Flow AlchemyTM.
As a creative thinker, plus innovation expert, I have taken over a decade of experience serving renowned organizations as a consultant and facilitator that reaches thousands of people through keynotes and interactive workshops. [This has allowed me] to develop a framework that supports heart-centered leaders to connect the dots and solve meaningful problems we face today.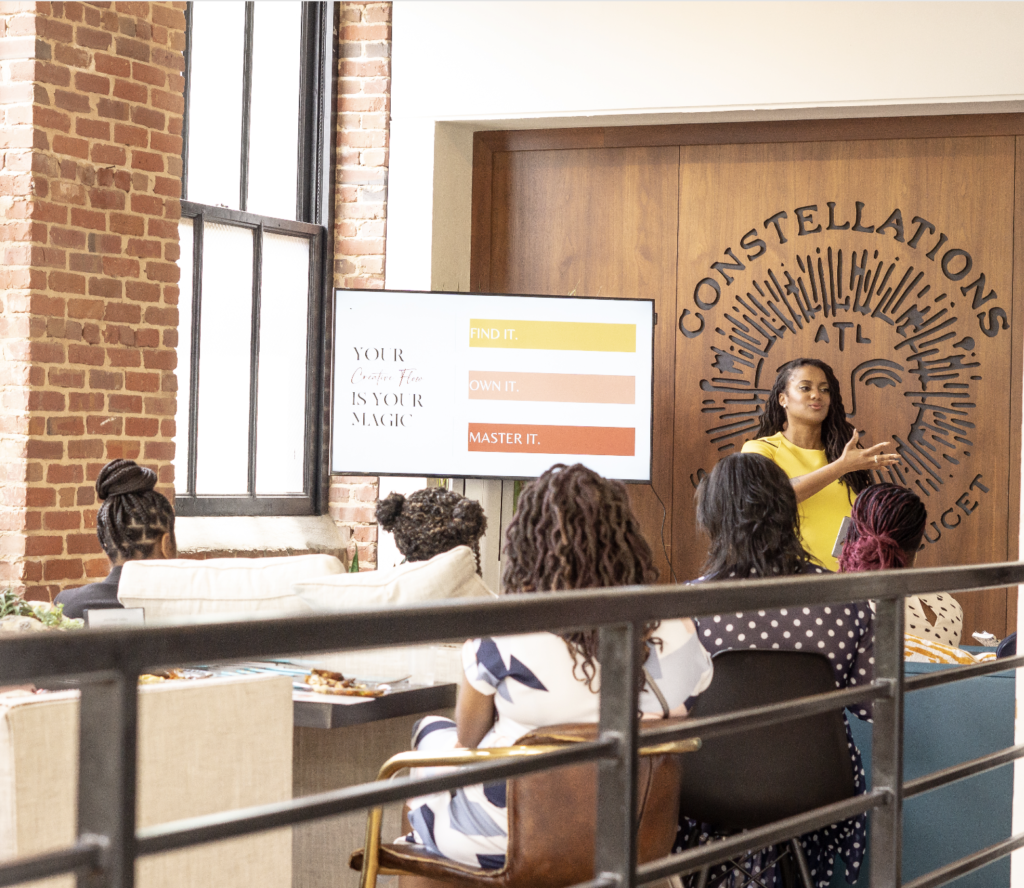 What are you most proud of?
Trusting God and never giving up as I take the road less traveled. I am proud that I have the ability and willingness to take anything life throws at me and alchemize it into something good, gorgeous, and deeply gratifying. I am proud that my life's work is to create spaces and movements that connect people and make the world better.
What have you learned about yourself so far in 2022?
To put it even more simply, in the words of the songstress and Beyoncé–I'm that girl.
This year I have learned my life is full and whole as is. I don't have to do more to be more. I am enough as is. Every effort I make towards a more fulfilling journey is to support those around me and leave a more positive karmic imprint along the way. I've also relinquished the neverending obsession with controlling outcomes and instead embrace life daily, moment to moment. I'm much happier than I've ever been as a result of this dedication to flow.
What women in your life have been a source of inspiration and why?
I am fortunate that my identity was influenced by some pretty incredible women including my mother, aunts, cousins, friends, mentors and some incredible clients I've worked with over the years.
But my grandmothers were my muses and my fortress. My mother's mother, Georgia, taught me how to trust. My father's mother, Cynthia, taught me to honor my self-expression. Dorothy, my mother's grandmother, taught me it was okay to desire and have a large family and to extend that family to anyone in need. Frances, my father's maternal grandmother, taught me the value of creating space for bringing family together. Jacquline, my father's paternal grandmother, taught me how to be a MF BOSS – I spent the most time with her learning practical lessons on integrity and ownership. In essence, all of my grandmothers taught me to say yes to myself and to make space for connection with others.
Quoting Audre Lorde, "Caring for myself is not self-indulgence. It is self-preservation, and that is an act of political warfare." Please share your self-care routine. How do you care for yourself as a Black business owner and as a black woman in general?
My daily rituals have some element of honoring my heart, mind, body and soul – whether that's a night out in Dallas, dives dancing to hip hop, hopping on a flight to explore a new city or simply staying in cooking a delicious meal for myself and re-listening to an album that speaks to my soul. Pouring into myself allows me to stay well and serve as a conduit for creative flow at all times and ensure I never have to "turn on" my creativity. Instead, my wellness rituals allow me to live, eat, breathe and sleep in color.
Provide links to your website and social media platforms.
Website: www.heyrachelrai.com
Instagram: @heyrachelrai
LinkedIn: https://www.linkedin.com/in/rachelraihenry/