Please introduce yourself and your business to our community.
My name is Katrina Charles-Daniels. I am a jewelry designer and vintage style curator.
At what point in your life did you realize your passion?
When I was approaching my 40th birthday after a drastic weight loss I wanted to reinvent myself. I started to connect to all things that are of me, a Brooklyn girl with big dreams and big hair (lol). Today's Around the Way Girl. Rocking my Bamboo Earrings to the Board room and to brunch with a cute vintage touch.
What did you learn about yourself in 2020?
Whew! Well, I learned that I've been in my own way for the majority of my life. I allowed my thoughts to convince me that I was not good enough or that it wasn't my time. I stopped believing the lies and walked in my power and purpose and told the world to "MAKE ROOM" This space and opportunity has been waiting for me.
What do you attribute to your success in life and business?
My support system and aligning myself with amazing mentors. My husband has also been that one person who could see the things I could not. He continued to push me and understand the strengths in numbers.
It is important for us to nurture a community of black women that share, learn, and thrive together. Please share a story of failure that taught you a valuable lesson.
Within the same year span, I went through a divorce and the loss of a high-paying job. I was at that job for the duration of that marriage for both of these life events to come to an end within months of each other. I didn't even know what was next. I was an unemployed recently divorced woman. My thoughts were I failed my children and I would never be able to rebuild and or take care of them. This set in fear which I flipped to the excitement and embraced as a need for change. I wanted and needed to be the narrator of my book.
Please let us know the woman you were 5 years ago and who you're becoming?
5 years ago I was a shell of a woman. I was recently divorced after a failed marriage of almost 10 years. I had the rough literally snatched from underneath my feet. I was paralyzed and could see no future. 57lbs heavier but the heaviest weight I was carrying was baggage. I saw no end, no hope, and LOVE did NOT exist.
I am becoming a woman who has OWNED the ROOM!
What women in your life have been a source of inspiration?
This is simple, my daughters. I am a mother of 3 daughters that vary in age since I am a young mom. I've grown with my eldest. I've fought through tough times with my middle daughter and learned from my youngest. These young women inspire me every single day to be better and stronger in order for them to do the same. They are my lifelines.
Celebrate your wins! Brag, sis. What are you most proud of?
I stepped into places where I felt "I did not belong" and made the most connections. The connections were one thing but the success came about when I decided to follow through to ask for opportunities as I continued to do the work. My jewelry has been worn by Actress Dewanda Wise (Ms. Nola darling ), Singer and Songwriter Angie Stone, Celebrity Chef @Nikthechicchef, Influencers: @TheRealbJudy, @TiffanyCrazyCool, @JenJeanPierre, and on The Red Carpet of the Emmys and New York Fashion Week.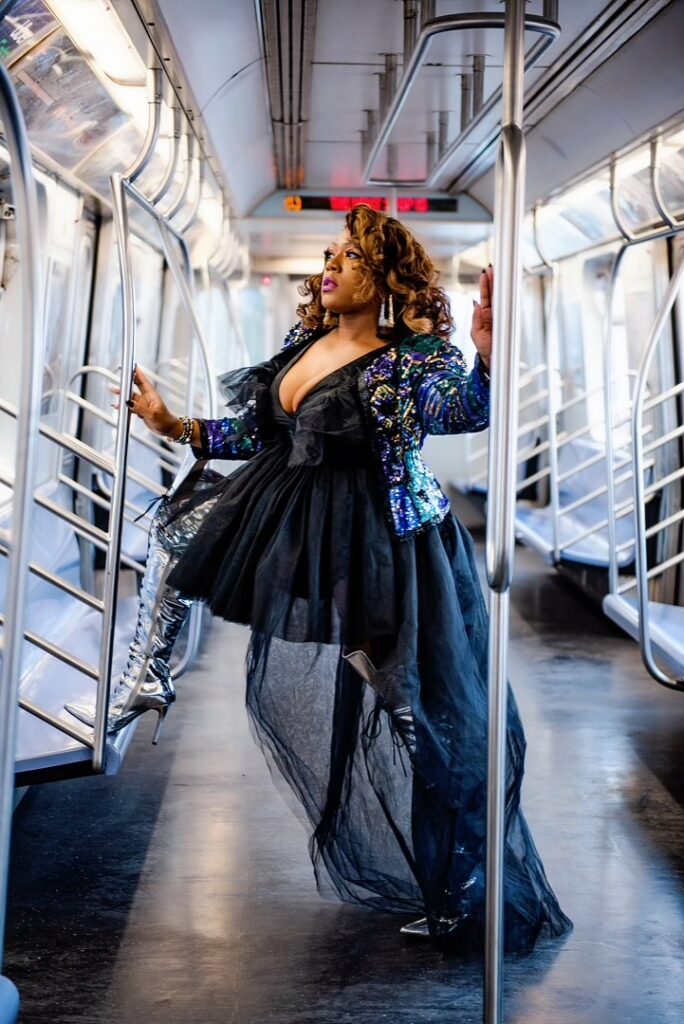 Quoting Audre Lorde, "Caring for myself is not self-indulgence. It is self-preservation, and that is an act of political warfare." Please share your self-care routine.
Daily I do my daily affirmations, 22 minute workout (HITT) and abs and write my thoughts out and scratch out all things NEGATIVE. Mental health is at my forefront of my daily approach on self care. I understand the power of the Mind that feeds the Heart.
Provide links to your website and social: