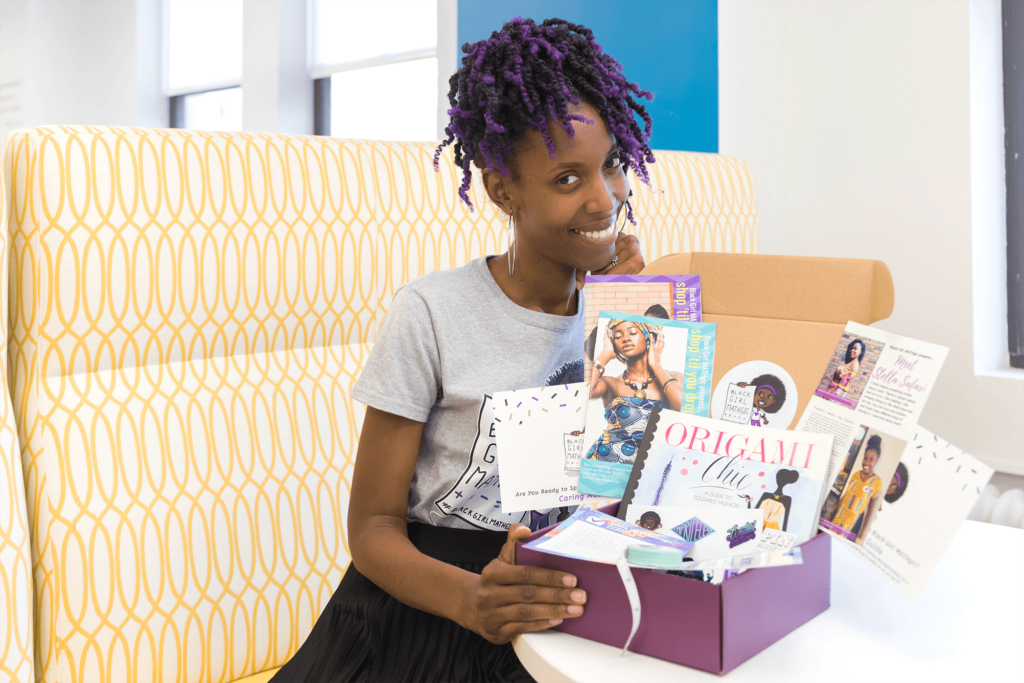 Please introduce yourself and your business to our community.
Hello beautiful people! My name is Brittany Rhodes. I am the Founder and General MATHager of Black Girl MATHgic. Black Girl MATHgic is a movement created to increase math confidence, agency, enthusiasm, awareness and fluency in children, with a focus on girls and black children, who are disproportionately impacted by math anxiety. Our flagship product is the Black Girl MATHgic Box, which is the first and only monthly subscription box designed to increase math confidence and decrease math anxiety in girls on a 3rd-8th grade math level. We also offer a one-time K-2 Bundle Box and other complementary math confidence products on our website. We have had the honor of being featured in Black Enterprise, Forbes, BEYONCE.com, and more.
I have been a math tutor/mentor/cheerleader for almost 20 years. I have a Bachelor of Science in Mathematics from Spelman College and an MBA from the Tepper School of Business at Carnegie Mellon University. I am a proud native of Detroit, Michigan, where I currently reside with my lovely husband, Oscar.
At what point in your life did you realize your passion?
I realized my passion when I began tutoring math as a freshman at Spelman. Helping people, especially children, unlock their own innate math potential and show them that math can be fun is what I was put on this earth to do.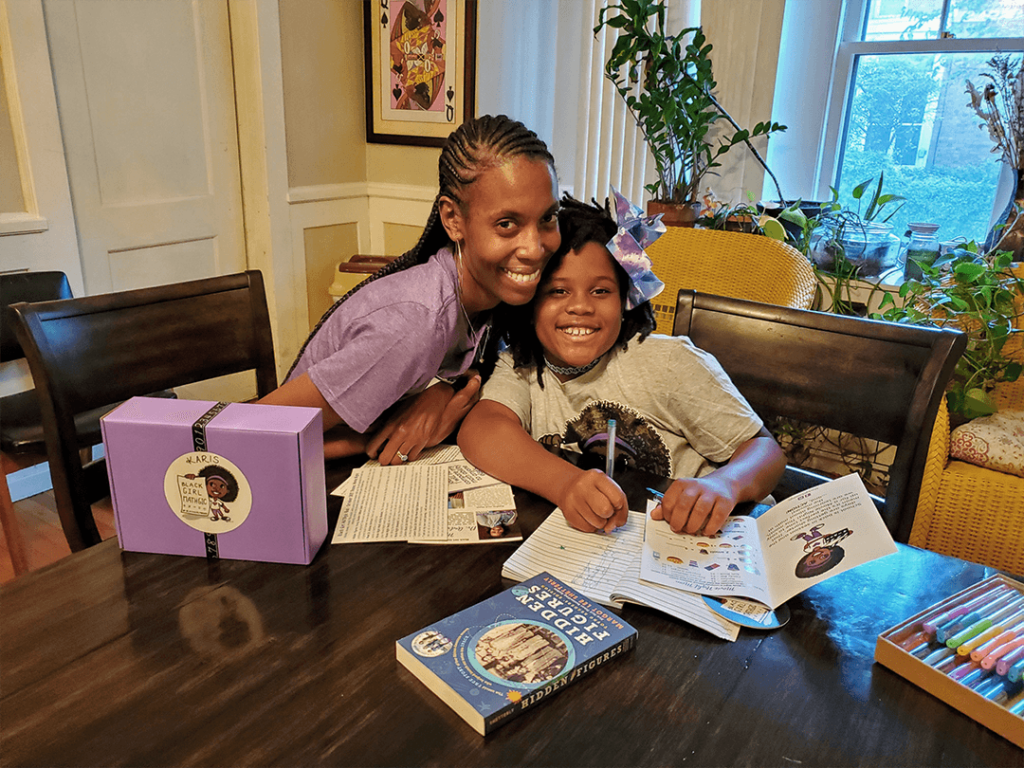 What did you learn about yourself in 2020?
In 2020, I learned that I was fully walking in my purpose. I experienced a lot of personal loss due to COVID-19 and other illnesses in 2020. Working on Black Girl MATHgic was a joyful distraction. It allowed me to channel my sadness into something productive, something bigger than myself. Additionally, the business really took off in 2020, in part because of COVID. It was a very "the best of times, the worst of times" year for me. It solidified that I am fulfilling my God-given purpose on this Earth, and I am forever thankful.
What do you attribute to your success in life and business?
I am not sure if I would qualify myself as successful (lol, typical response right?), but I do attribute my achievements and accomplishments to date to my faith in God, focus on continuous self-improvement (I love reading self-help books – and then applying what I've read!) and willingness to do the research, and put in the work. I also would be remiss if I didn't mention my village – especially my mom and my husband, who have supported me in countless ways, my students, and the team I am fortunate to be building at Black Girl MATHgic.
It is important for us to nurture a community of black women that share, learn, and thrive together. Please share a story of failure that taught you a valuable lesson.
Since starting my business, my largest failures have been around rushing and not doing my due diligence when it comes to sourcing contractual help for various areas within the business. I have been ghosted by a service provider I paid in full upfront who only completed half the work I paid for, provided underwhelming materials after paying for what I thought would be a top-notch service, and most recently, forked over a few hundred dollars to a company who crashed my website without backing it up 🙁 (Thankfully, I had backups on deck from my web hosting company)! I was rushing because I was behind and in a constant state of playing catch up. This was in part due to growing quickly, but also not planning properly. I learned that I needed to slow down, truly vet people and be much more intentional about planning.
Please let us know the woman you were 5 years ago and who you're becoming?
Five years ago, a lot of really crazy things began happening to me health-wise, seemingly out of nowhere. In 2016, I had a breast lump, an ovarian cyst rupture, a UTI, and was diagnosed with fibroids (among other things). Yes, all of that happened in one calendar year! I was suffering from anxiety, and confused and saddened by what was going on with my body. By the grace of God, everything was benign, but those health scares led me down a path of exploration and introspection to figure out how to address the root causes of those issues. I ended up making a variety of changes over time, including adopting a plant-based diet and making stress reduction an active part of my life. Though I was terrified five years ago, that storm actually was preparing me for the woman I am becoming today. Without that storm, I would not have known how to mitigate stress properly, eat as well as I should be, or know when to turn in for the evening (I am #teamsleep all day over here! lol) So, now I have the tools to step into all that I am becoming – particularly as a business owner stepping into entrepreneurship and all of its demands – with knowledge, grace, care, and the ability to know when to take a seat.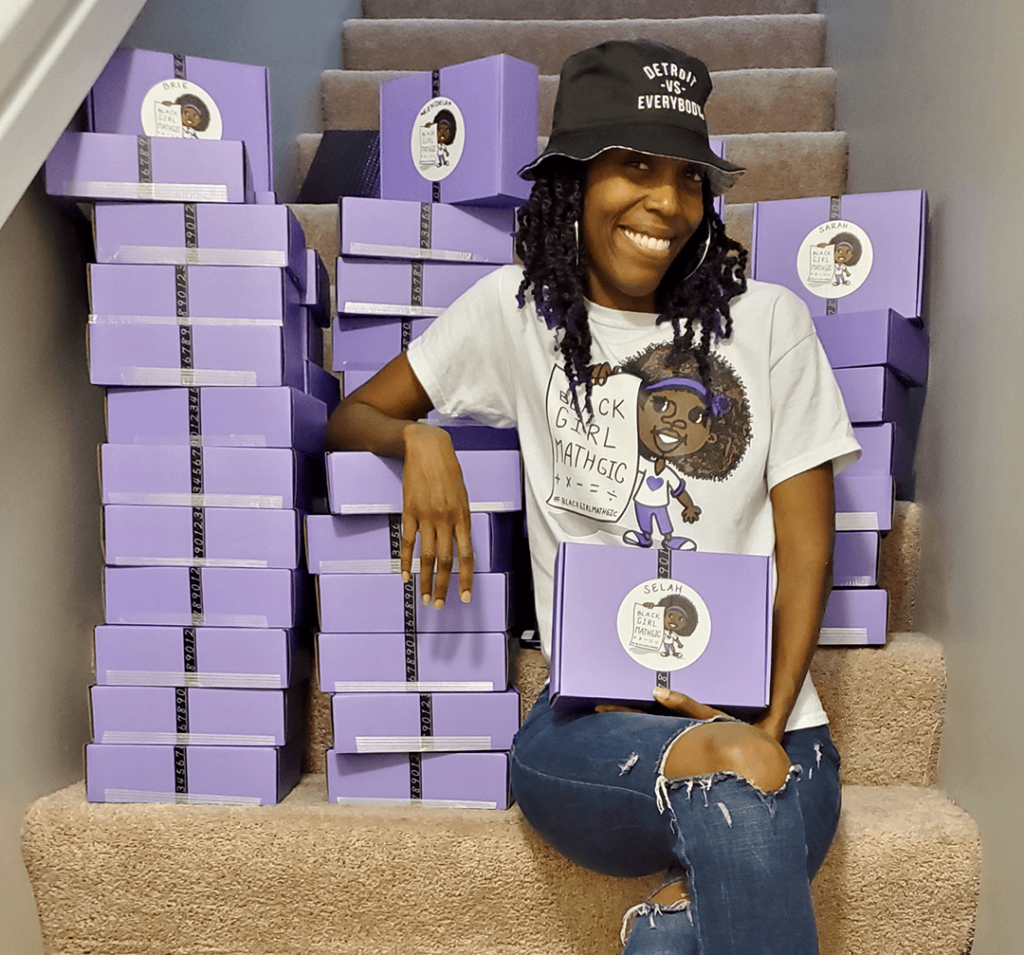 What women in your life have been a source of inspiration?
My mother is my biggest source of inspiration. She is, quite simply, the reason I am who I am today. She is the reason why I value education so much and love working with children. She is a lifelong educator and was a K-8 Principal for almost 20 years. So, you could say being an educator is in my blood! I am her only child and we have always been very close. Her example, counsel, support, love, and guidance have helped me through some immensely rough times in my life. Plus, she loves Black Girl MATHgic and helps me run the business every single day! Every day, I set out to make her proud.
Celebrate your wins! Brag, sis. What are you most proud of?
I am so proud of what I am building with Black Girl MATHgic. From being told by a potential suitor (a long, long time ago) that he didn't know girls who majored in math "could be pretty" to having people assume that the only career option a math major has is teaching, math and math education in America is grossly misinterpreted and misunderstood. It doesn't have to be that way, and I'm so blessed and honored to have the chance to build something that is showing our next generation a different path and mindset. What makes me most proud is that so many others have embraced what we're doing. This year alone, we have been featured in Black Enterprise, Forbes, and BEYONCE.com (eek!), to name a few! We've also gone viral on social media, raised thousands of dollars to donate boxes to non-profit organizations, won five figures in grants and pitch competitions, and showed hundreds of beautiful girls (and boys!) – black and non-black alike – across the nation that they have what it takes to be math stars! And, we've been able to do this all while centering black girls, our most vulnerable population when it comes to math education, in this experience. How cool is that?!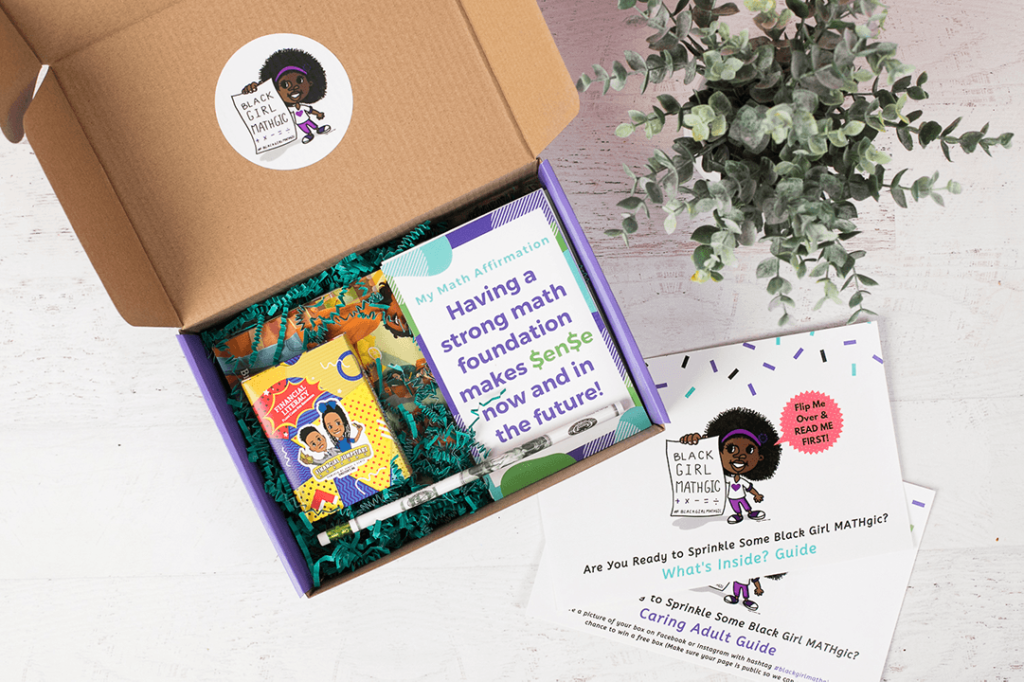 Quoting Audre Lorde, "Caring for myself is not self-indulgence. It is self-preservation, and that is an act of political warfare." Please share your self-care routine.
The main components of my self-care routine are:
Rest (Again, I'm #teamsleep and #teamtakedaysoff lol)
Nourishment (eating well, staying hydrated, and drinking my favorite teas)
Decompressing (Meditation/Humidifier/Essential Oils)
Moving (Stretching/Trampoline/Vertical climber – I think every adult should own a trampoline!) I also love Yoga and Pilates, but have not been as diligent with my practice since COVID
and
Quality time with my loved ones
You are part of our melanin muse tribe. How can we help you on your journey?
Help us spread the word about how we are increasing math confidence and decreasing math anxiety! We are always looking to connect with new supporters, Caring Adults (our term of endearment for our customers), educators, schools, districts and youth-serving non-profit organizations. We also have a box donation program! And stay tuned because we are working on some exciting new products and projects!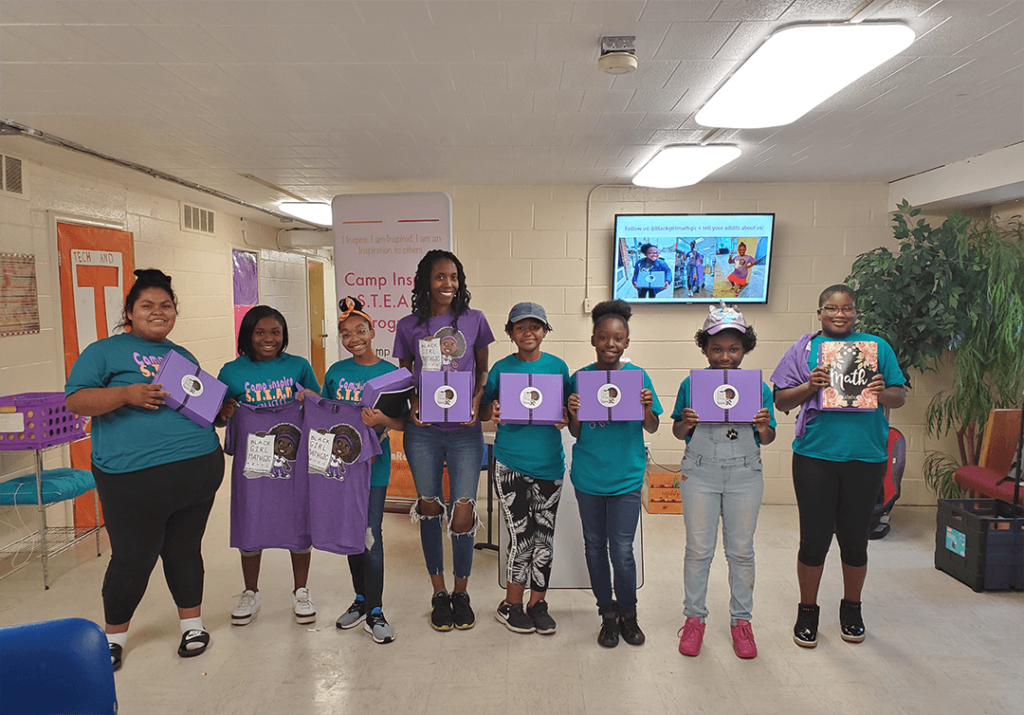 Provide links to your website and social media platforms below.